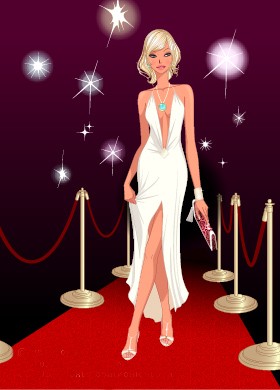 I love the Oscars. Don't ask me why--I've rarely seen any of the movies. Maybe it's because I feel like this is the one night of the year when Hollywood approaches the glamor of the old movies that I love. Maybe I like to see the women in their gowns and the men in their tuxes (Does anything look as good as a man in a tux?) I don't know. But I sit down to watch some of the red carpet stuff and don't get up until the bitter end.
My movie count this year was pitiful even for me. I went to the Oscar website and counted 58 individual movies that had been nominated, including the shorts. My watch-count? Six. I'd seen
Up, Transformers: Revenge of the Fallen, Star Trek, Harry Potter and the Half-Blood Prince, Coraline,
and
Avatar
. I hadn't even heard of most of the movies, including the best pic winner,
The Hurt Locker
. Should I be blushing?
This year's show was a little bit of a let-down. I don't know if Steve Martin and Alec Baldwin didn't have great chemistry or if the writers this year just sucked, but the whole scripted part just fell flat for me. I was sitting on the couch wishing they'd bring Doogie back out.
There were good parts too. My favorites from the dresses I saw were
Sandra Bullock
,
Helen Mirren
, and
Kate Winslet
. Mo'Nique, Michael Giacchino, and Sandra Bullock all gave great speeches. Mo'Nique talked about doing what's right versus what's popular; Giacchino talked about how creativity is always okay, even if someone tells you it's a waste of time; and Sandra Bullock thanked the moms who mother all the kids who need it. It seems like there was one other speech I really liked, but if so, I don't remember it now. Oh, and if you don't follow
Neil Gaiman on Twitter
, you
need
to. He was there as the author of
Coraline
, tweeting away. When he tweeted about how he was going to "incite fellow mezzaninies to storm downstairs en masse," I thought I was going to choke! Oh, and speaking of Neil, I finally found a pic of him in his
Oscar finery.
Do you watch? What did you think of this year's show?