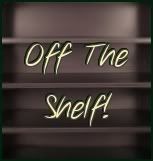 Bookish Ardour
is challenging us to read some of the books we already own. I'm choosing the "Trying" level and aiming low at 15 books. Visit
the site
to sign up. (Here's my
owned-to-read
shelf on GoodReads if you're curious.) This challenge runs from January 1 - December 31, 2011. I'll track my progress here.
The History of Love by Nicole Krauss
Scones and Sensibility by Lindsay Eland
North and South by Elizabeth Gaskell
Without Reservations: The Travels of an Independent Woman by Alice Steinbach
Moloka'i by Alan Brennert
The House on Tradd Street by Karen White
Seabiscuit: An American Legend by Laura Hillenbrand
A Storm of Swords by George R. R. Martin
Mr. Rosenblum Dreams in English by Natasha Solomons
Labyrinth by Kate Mosse
The Color Purple by Alice Walker
Their Eyes Were Watching God by Zora Neale Hurston
East of Eden by John Steinbeck
Odd and the Frost Giants by Neil Gaiman
Ballad of the Whiskey Robber: A True Story of Bank Heists, Ice Hockey, Transylvanian Pelt Smuggling, Moonlighting Detectives, and Broken Hearts by Julian Rubinstein
Travels With Charley by John Steinbeck
Under the Tuscan Sun by Frances Mayes
I have an affiliate relationship with Malaprop's, my local independent bookstore located in downtown Asheville, NC; and Better World Books. I will receive a small commission at no cost to you if you purchase books through links on my site.