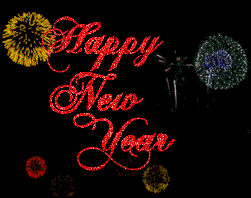 glitter-graphics.com
First of all, in the words of my husband's aunt, "Have a happy, happy, happy, and healthy 2011!" I hope that 2010 was a good year for you and your loved ones and 2011 is even better!
I've thought about reading goals and my only real goal is to make my reading time count. I don't have much of it anymore, so I want to try my best to only read those books that I'm really, really interested in. I made a good start on this when I announced a month or so ago that I would no longer accept books for review. I've now finished reading all my review books (but not reviewing them), so I feel like a kid in a candy store when I look at my piles of unread books. I can read any one that I want! If I start one and I don't like it, I can put it down, guilt-free! I can visit the library without a nagging feeling that I should be reading review books instead! I can finally re-read some of my old favorites that have been calling my name pitifully because they've been shamefully neglected!
I'm excited about this, can you tell?
That said, I've found a few reading challenges that I'm signing up for. Counter-productive, right?
I've tried to sign up for challenges that I think I will actually complete and that will be a little bit of a challenge. A fantasy challenge is not really a challenge for me because I love the genre. These are genres or topics that I'm genuinely interested in but that I don't seem to pick up very often. Here they are:
Bookish Ardour
is challenging us to read some of the books we already own. I'm choosing the "Trying" level and aiming low at 15 books. Visit
the site
to sign up. (Here's my
owned-to-read
shelf on GoodReads if you're curious.)
Vasilly
is hosting the Graphic Novels Challenge this year. I read
Maus
by Art Spiegelman and
Persepolis
by Marjane Satrapi in 2009 and loved them all. I decided to read more graphic novels but I haven't. I'm hoping this will push me to actually follow through. I'm signing up for the Beginner level at 3 books. Visit
this site
to join in.
Christina T.
is hosting the Page to Screen Challenge. The goal is to read books that have been made into movies or tv shows. There is the option to watch the movie, but it isn't a requirement. This meshes nicely with my irregular feature,
Pages on the Screen
. There are several movies coming out over the next year that are based on books I want to read, so I'm in for this one as well! I'm going for the Beginner level at 5 books. Go to
Reading Extensively
to sign up. There are prizes!
Midnight Book Girl
is hosting Read Me Baby 1 More Time. Who can resist a title like that? The challenge is to re-read your old favorites. We're talking a full re-read, no skimming favorite scenes. I'm signing up for a Trip Down Memory Lane at 3 re-reads. Visit
the site
for more details. This one also includes prizes!
Well-Mannered Frivolity
is hosting the Gothic Reading Challenge on a dedicated site. I love a good Gothic read, but I don't pick up the genre up often. Here's another much-needed push for me! My goal is A Little Madness--to read one Gothic book. Visit
Gothic Reading Challenge
for more details.
The Heroine's Bookshelf
by Erin Blakemore,
Bibliophibian
was inspired to read about the heroines she didn't know. And so this challenge was born. Read 1-5 books that feature the heroines from
The Heroine's Bookshelf
. I own but haven't read 3 of these, so this will help a little with the Off the Shelf challenge as well. Re-reads do not count. Check out
the heroines
and
sign up here.
All of the above challenges run from January 1, 2011 - December 31, 2011.
Bermudaonion
is hosting the Okra Picks Challenge. The challenge is to read books that have been chosen by the Southern Independent Booksellers Alliance to be handsold. This will overlap nicely with my own
Southern Literature Challenge
. I'll aim for 1-3 of these books. Visit
Bermudaonion
to see the list of books and sign up for yourself. This challenge started a few months ago, but it doesn't end until March 31, 2010, so there's still plenty of time.
My question: Do any of you know of a general non-fiction challenge? I don't usually read non-fiction, but I did pick up several for review over the past year and I mostly enjoyed them. I would like to keep it up, but I know that I'll need a push to do it.
I couldn't find one, so I'm hosting an easy one myself!
I'll write up a post for each challenge individually so that I can track the books I read, but I'll backdate those so I (hopefully) don't clog up anyone's feed.
What do you think? Do any of these pique your interest? Do you have any recommendations for any of the challenges?
I have an affiliate relationship with IndieBound, Book Depository, and Better World Books and will receive a small commission at no cost to you if you purchase books through links on my site.