Don't you just love larger-than-life characters? The ones who jump off the page and grab you? Whether you love them or hate them, you can't be indifferent to them.

I would love to know about the characters who just won't leave you! Most of you will probably post about how much you love (or loathe) each character, but this is a great place for the more creative ones among you to let go and have fun! Write yourself into a scene with Anne and Diana. Write a love poem in elvish for Aragorn. Draw a picture of Harry obliterating Voldemort. The possibilities are endless.

Be sure to post the book's title and author, and be very careful not to give away spoilers while talking about how much you love your characters.

Mr. Linky will be posted here on The Introverted Reader every Thursday.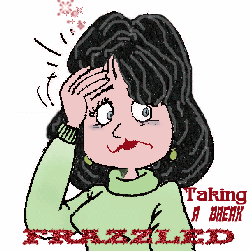 glitter-graphics.com
I feel like I have been racing to try to catch up ever since I finally arrived home about 24 hours later than I was supposed to on Monday afternoon. Inspiration is not forthcoming today, so I'm taking today off. I'll be back with a new character connection next week. Here's Mr. Linky for those of you who are more coherent than I am!
I have an affiliate relationship with Malaprop's, my local independent bookstore, and Better World Books. I will receive a small commission at no cost to you if you purchase books through links on my site.