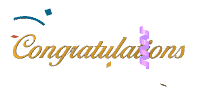 glitter-graphics.com
Finally! The moment we've been waiting a year for! I promised those who signed up for my 2011 Southern Literature Challenge that I would give "one Southern lit book of your choice (up to $15) to two randomly-drawn readers at the end of the challenge. Each review you link will give you one entry, with a limit of four entries per person. This part will be open to anyone who lives in an area where Book Depository offers free shipping."
It's time to choose! Using random.org the winners are...
Congratulations!
I'll send out emails shortly.
I was interested to see who the most popular author of the challenge was. That honor goes to Sarah Addison Allen. Yay! I just love her books. The most widely read book was
The Help
by Kathryn Stockett! Another fantastic book!
View the
spreadsheet
with all the book titles and authors. You'll notice that I included all the books that were linked, but I only used the first four from any challenge participant in choosing the winners. I just wanted this to be a resource for readers looking for recommendations in Southern Literature.
Thanks so much to everyone who participated! I hope you enjoyed your books and found some new favorite authors!
I have an affiliate relationship with Malaprop's, my local independent bookstore located in downtown Asheville, NC; and Better World Books. I will receive a small commission at no cost to you if you purchase books through links on my site.