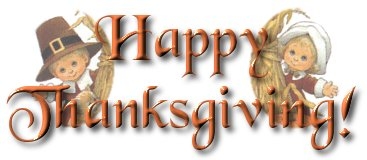 glitter-graphics.com
Today is Thanksgiving here in the US, a day that is supposed to be dedicated to reflecting on our many blessings and feeling grateful for them. That's sadly starting to get a bit lost in the rush of the huge Thanksgiving meal and the ever-earlier kickoff to the Christmas shopping season though.
In the spirit of the season, what books are you thankful for? And/or what other blessings do you want to share here?
I'm first of all thankful for my kind, patient, and loving husband, Luis. And my kind, patient and loving family and extended family. Do you get the feeling that I require a lot of patient, loving kindness? :-) I'm also thankful for a decent job that pays the bills, a beautiful house I love in a gorgeous part of the world, the ability to travel and see new places, and my faithful blog readers who stick with me even when I neglect posting for enormous amounts of time.
Now, a few books I'm thankful for.
Anne of Green Gables
by L. M. Montgomery--This is the first book I really remember falling in love with. I've always been a reader, and I definitely remember making my way through Beverly Cleary's books, Susan Cooper's
Dark is Rising
series, and Lois Lowry's
Anastasia Krupnik
books as fast as I could, but Anne is the first book that I remember falling head-over-heels, re-read-it-'til-the-cover-is-about-to-fall-off in love with.
The Book Thief
by Markus Zusak--I read this about six years ago and it immediately became my absolute favorite book. I tend to love stories of WWII and the Holocaust anyway, but these characters gripped me by the heartstrings and haven't ever let go. There are many themes and ideas in it that resonated deeply with me as well. I'm afraid to re-read this one, though, for fear that it's not as good as I remember it! How crazy is that?
Fair and Tender Ladies
by Lee Smith--This book feels like home. Ivy Rowe is an Appalachian mountain girl like me and she immediately became one of my people.
Share your thoughts in the comments! Have a Happy Thanksgiving/happy Thursday!
I have an affiliate relationship with Malaprop's, my local independent bookstore located in beautiful downtown Asheville, NC; and Better World Books. I will receive a small commission at no cost to you if you purchase books through links on my site. My opinions are completely my own.